---
Main | About | Analysis | Ingredients | Recipes | Code
---
Ethiopian Chicken with Berberi Sauce and Fresh Ginger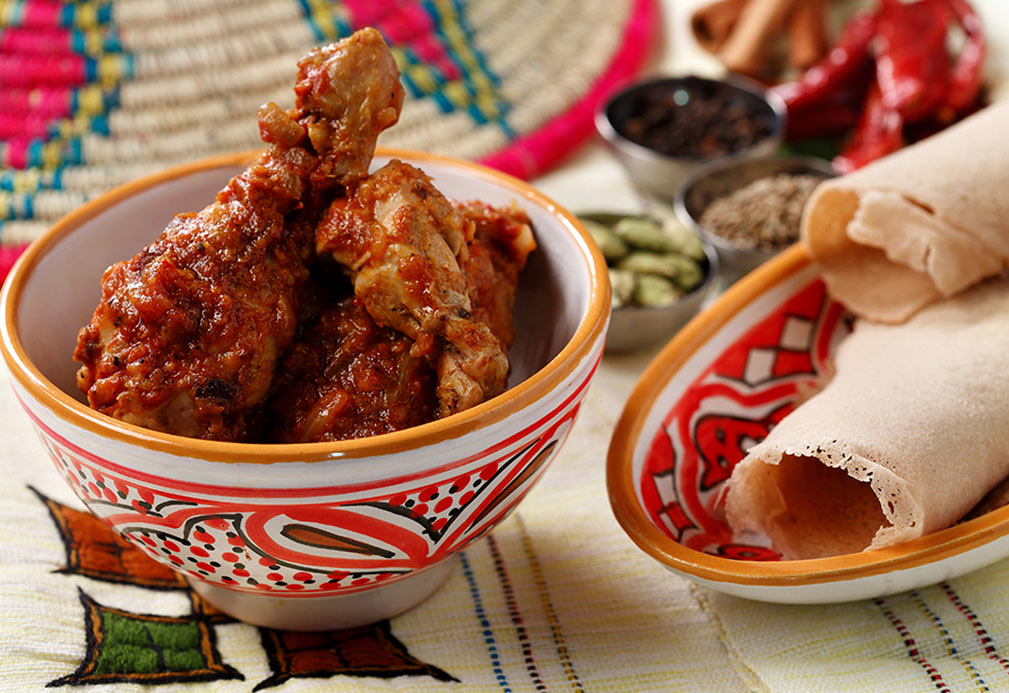 Ingredients
1 tsp cumin seeds
1/2 tsp cardamom seeds
1/2 tsp black peppercorns
3 to 5 dried red cayenne chiles (like chile de arbol), stems removed
1 cinnamon stick (about 3-inches/7.5-cm long)
2 small yellow onions, one coarsely chopped and other finely chopped
2 pieces fresh ginger (each about size and thickness of 25-cent coin)
2 large garlic cloves
1/4 cup canola oil 60 mL
1 cup tomato sauce 250 mL
3 lbs cut-up bone-in chicken, skin removed (see Cook's Tips)
1 tsp coarse sea or kosher salt 5 mL
Instructions
In small bowl, combine cumin, cardamom, peppercorns, chiles and cinnamon. Preheat large skillet over medium-high heat. Once pan feels hot, add spice blend pan.
Toast spices, stirring them constantly as they bloom with nutty aroma and turn just a shade darker, 1 to 2 minutes.
Quickly remove spices from pan and transfer to plate to cool, about 5 minutes.
Once cooled, transfer spices to grinder, like coffee grinder, and grind to consistency of finely ground black pepper.
In food processor, place coarsely chopped onion, ginger, garlic and ground spices.
Mince ingredients to consistency of slightly coarse paste.
In same skillet, pour canola oil and heat over medium temperature. Once oil appears to shimmer, add finely chopped onion and stir-fry until it turns light brown around edges, about 5 minutes.
Add paste to same skilletand cook, stirring ingredients occasionally, uncovered, until moisture in paste evaporates and canola oil starts to separate from mix, 5 to 8 minutes.
Add chicken pieces and allow them to absorb flavors from other ingredients, turning occasionally, uncovered, until some pieces turn lightly brown, about 5 minutes.
Pour in tomato sauce, sprinkle in salt and stir well.
Lower heat to medium-low and cook chicken, covered, stirring occasionally, until meat in thickest parts is no longer pink inside and juices run clear, 20 to 25 minutes.
Serve chicken warm with aromatic sauce alongside a plate of rice, couscous or in the traditional way with slices of hard-boiled eggs.
Cook's Tip: Cut-up, bone-in chicken can be found in every grocery store's meat department. These skin-on pieces are easy to work with compared to the messy process of skinning a whole chicken and cutting it into smaller pieces. To skin, hold chicken piece in one hand and with a paper towel in the other hand, pull off skin, using towel to help you grip skin. Sometimes partially freezing chicken also makes skinning easier. While pre-cut pieces make for less work, they are typically more expensive than a whole chicken.